BluStorm® High Speed Hand Dryer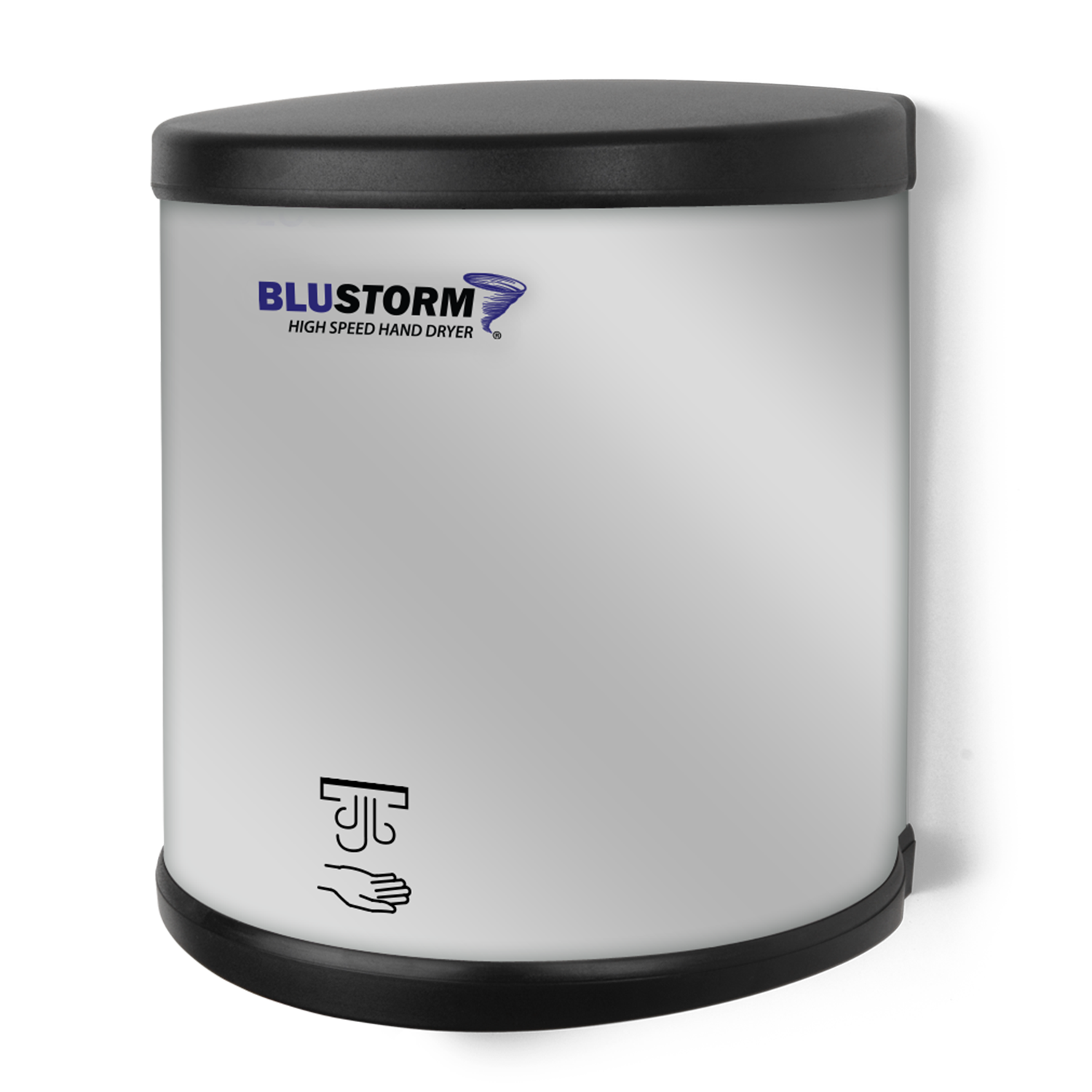 The stainless steel BluStorm® High Speed Hand Dryer provides a 95% cost savings vs. paper towels. Be blown away! The BluStorm offers a 10-15 second dry time and a decibel rating of 68.2dB.
With advancements in technology and improvements to hand dryers, more and more people are switching do to environmental benefits, cost savings and hygiene.
Improvements in 2019 include a more durable all metal back, lower sound level, and added air vents that improve dry time.
Customize your BluStorm® with a custom vinyl wrap!
7% quieter in 2019 at only 68.2 decibels
Upgraded all metal back for increased durability
Additional air vents for quieter operation and faster dry time
Fast results with less noise, 10 second dry time
1-piece cover with double vandal-resistant screws and key wrench
Power cuts off automatically after 60 seconds of irregular use
70% cost savings vs. conventional hand dryers
94% cost savings vs. paper towels
Blue light allows use to maximize dryers efficiency
Optional air filter available
5 Year Warranty

Model # / Color:
HD0950-09 / Brushed Stainless
HD0951-09 / Brushed Stainless
Dimensions & Weight:
Width: 8.94″
Height: 11.18″
Depth: 6.97″
Weight: 12.10 lbs
Motor Type: Adjustable Brush Type, Dual Ball Bearings
Thermal Protection:
Motor shuts off at 275°F (135°C)
Heater shuts off at 185°F (85°C)
Operating Airflow: 9,680 LFM
Air Output Temperature:
131°F (55°C)
Ambient Temp 77°F (25°C)
Sound Level: 68.2dB
Isolation: Class 1
Drip Proof: IP31
Watts: Heater Element 450-700W, Adjustable
RPM: 12,000 – 18,000, Adjustable
Voltage & Amps:
HD0950-09 – 110/120V / 12.5-13.4A
HD0951-09 – 220/240V / 8-8.5A
High Resolution JPG (White Background)
High Resolution PNG (Transparent Background)